Last year, Micah's Place provided 4,440 nights of shelter to survivors and their children.
One night of safety costs just $46.22 and includes everything a survivor or child will need:
–the physical safety of a warm, safe place
-24-hour confidential, onsite support
-all meals and snacks
-personal care essentials
-resources & referrals to community supports
-post-shelter support & much more.
By providing everything they need, one night at a time, together we can help survivors & their children overcome the immense challenge of rebuilding their lives after fleeing abuse.
Click here for more information on the Night of Safety Campaign,
to see our progress or start your own fundraiser for Micah's Place!
Interested in sponsoring a night(s)? There are many ways to donate! 
1. Mail: (via personal check) made payable to Micah's Place Inc. with "Nights of Safety" in the memo line.

Micah's Place
P.O. Box 16287
Fernandina Beach, FL 32035
2. Just Giving: Click below to donate through the secure fundraising platform of Just Giving
where our campaign is hosted & where we are keeping track of the progress toward the goal of having all 4,440 nights sponsored!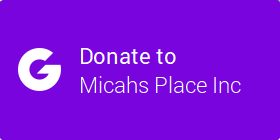 3. Pay Pal: Click on the "donate" button below to contribute through the secure site of PayPal.
Here, you can select the option of sponsoring 1 night, 5 nights, 10 nights of safety or any value of your choosing. 
Other giving opportunities include donations in someone's honor, estate planning and more.
Please feel free to contact our office at 904.491.6364 x108 or cott@micahsplace.org for more information.